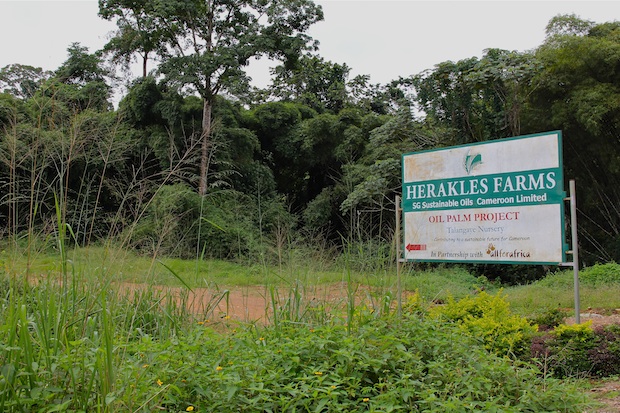 Or the corrupting influence of gifts.
The recent German-Cameroonian fact-finding mission to the Herakles Farms concession area has generated some news coverage in France.  The  AFP article posted below was published in Les Echos. Interestingly, this article refers to "corruption" and brings up the food and drink that Herakles Farms has given communities.
Corporate social responsibility is part of doing business and companies donate goods and services to communities all the time. But Herakles Farms has not yet obtained the presidential decree necessary for the implementation of its project (see our sidebar for reports on Herakles Farms). As the report from the fact-finding mission points out, the company is negotiating with villages to get land and the gifts the company doles out may influence the decisions of local populations.  In other words, villagers may not be making "free" and "informed" decisions about giving away their land.
These gifts are not insignificant. The company described its holiday gift-giving in a January press release: "Over the holidays, Herakles Farms (also known as SGSOC), a New York-based agriculture company operating in Ghana and Cameroon, donated food to 1,700 households in 38 villages located in the Nguti subdivision of Kupe-Muanenguba and in Mundemba and Toko in Ndian. In total, 11 tons of rice and 10 tons of fish were distributed to more than 8,000 individuals in the Nguti, Mundemba and Toko areas."
That's a lot of food to give away just to say, "Happy New Year."  And its worth reminding readers outside of Cameroon that what may seem insignificant in the U.S. or Europe — free beer at a meeting, for example — is actually a big deal in a village where a bottle of beer is an unaffordable luxury.
The AFP article puts the word corruption in quotation marks because these are allegations, of course. But more importantly, even if these allegations are verified, what is the recourse for villagers and what are the possible consequences for the company? The U.S. Foreign Corrupt Practices Act (FCPA) defines bribery as "anything of value," including money, travel, gifts and entertainment. But, the FCPA is concerned only with  foreign government officials. The FCPA says nothing about the bribery of foreign citizens — even if their consent is necessary for a project to go ahead.
The issue of "soft corruption" comes up often in this type of negotiation and clearly needs to be addressed. With millions of hectares of Congo Basin forest now earmarked for palm oil development, communities need to be able to make clear-headed and informed decisions about the future of their land. Any company that claims to abide by best practices, including free, prior and informed consent should be forbidden from providing gifts to communities during the negotiation stage. Just as government officials should not be bribed to sign deals, nor should communities.
Here's the article from Les Echos:
Cameroun: "corruption" lors de l'acquisition de terres pour un projet américain (rapport)
Un rapport issu du ministère des forêts camerounais et consulté par l'AFP mardi reproche à la société américaine Heraklès Farms des méthodes "d'intimidation et de corruption" pour acquérir des terres pour la culture du palmier à huile dans le sud-ouest du Cameroun.
Selon le rapport, la négociation de terres par la filiale camerounaise d'Herakles Farms, la SG Sustainables Oils Cameroon Ltd (SGSOC) "se fait avec beaucoup d'intimidations et de corruption, ciblant les chefs et certains décideurs (locaux) influents".
La compagnie américaine se sert souvent "de bières, de whisky, des sacs de riz et de vaches", pour que les collectivités entrent vite en négociation avec elle et la stratégie "fonctionne" puisque "des milliers d'hectares de terres" ont déjà été cédés, souligne le document.
Les auteurs de ce rapport disent s'être rendus dans 20 villages du sud ouest au mois de février et affirment que "les collectivités locales ne sont pas prêtes ou pas informées (de ce) dans quoi elles s'embarquent".
En 2009, le gouvernement camerounais a signé avec Herakles Farms une convention de base lui donnant un accord de principe pour une concession de plus de 73.000 hectares dans le Sud-ouest pour la culture du palmier à huile.
Selon le secrétaire général du Centre pour l'environnement et le développement (CED) Samuel Nguiffo toutefois, aucun contrat de bail "n'a jamais été signé".
"La présence de la compagnie (qui a déjà créé des pépinières et abattu des arbres pour mener ses activités) sur le lieu est illégale. Cette procédure d'acquisition des terres auprès des communautés n'est pas prévue par la loi camerounaise. Elle est illégale", souligne M. Nguiffo. "Au gouvernement camerounais, il y a des gens qui ont obtenu des pots-de-vin" pour faciliter la signature de la convention de 2009, accuse sous anonymat un responsable de l'ambassade américaine à Yaoundé.
"Les négociations foncières doivent être arrêtées" pour éviter "de potentiels conflits sur l'utilisation des terres", suggère pour sa part le rapport du ministère.
Début septembre, l'institut Oakland avait déjà demandé l'arrêt du projet redoutant notamment "la mise en péril d'écosystèmes uniques".