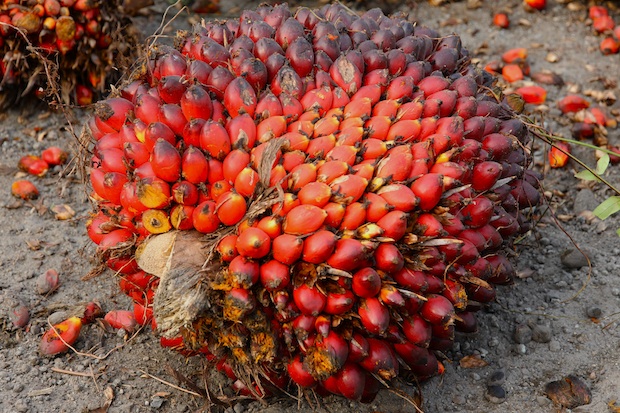 The Wall Street Journal reports that U.S. industrial agriculture giant, Cargill Inc., is seeking to expand its oil palm plantations in Indonesia. The company currently has more than 42,000 hectares of plantations in the country as well as an additional 27,000 hectares worked in partnership with smallholder farmers. Indonesia requires that at least 20% of plantation land be reserved for smallholder farmers.
According to the Wall Street Journal global demand for edible oils is rising by around 3% annually, but palm-oil consumption growth is as high as 7%. "Cargill argues that expansion is necessary to feed world's growing population and rising industrial demand, but feels it can be achieved without endangering the environment."
Cargill is also seeking land for palm oil development in several African countries, including Ivory Coast, Liberia and Cameroon. In Cameroon, the company is reportedly in late-stage negotiations for 50,000 hectares of land.
In May 2012 Reuters reported that, "U.S agribusiness conglomerate Cargill plans to invest up to 200 billion CFA francs ($390 million) in a 50,000-hectare oil palm plantation in Cameroon, an official at the Central African nation's investment agency said on state radio." Cameroon's investment agency magazine, Investir au Cameroun, ran a short story reporting that Cargill was prospecting for 50,000 hectares — a plantation that could create 10,000 jobs.
Cargill is already present in Cameroon in the cocoa sector, where its joint venture partner, Telcar Cocoa, is the country's leading cocoa exporter.
Last month the Rainforest Foundation reported that Cargill's project was "close to signature." If this land deal is secured, Cargill's Cameroon palm oil operations in Cameroon will be on a similar scale to its Indonesian business.
Cargill and other agri-business firms are aggressively seeking land across West Africa and the Congo Basin but their actions don't generate much media coverage. Massive palm oil deals in Liberia have been getting some attention, but the scale of the investment merits much more reporting. Golden Veroleum (Golden Agri Resources) and Sime Darby have each leased over 200,000 hectares in Liberia, for example. That's about the same land mass as the state of Rhode Island. And Golden Agri Resources, the company that has been getting some good press lately for its zero deforestation policy in Southeast Asia, does not appear to be abiding by the same standards in Liberia.
Land deals in the Congo Basin region are getting even less attention. The Cargill negotiations have not been the subject of any reporting in Cameroon. Back in May a Cargill spokesperson said the company, "does not comment on speculations." But shouldn't the people of Cameroon be aware of major investments coming to the country? Bringing these deals out from the shadows is an important step for making them work for all stakeholders.